Click Photo to View
the Telecosm 2005
Online Photo Album
Sponsorship
Information

Kim Harrell Sears
Director of Sales,
Forbes Conferences
212.724.9759
ksears@forbes.com

Registration
Information
Emily Lord
212.367.2519
elord@forbes.com

Speaker
Information
Mary Collins
Conference Chair,
Gilder Publishing
413.644.2120
mcollins@gilder.com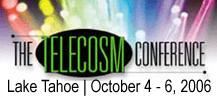 Gilder/Forbes Telecosm 2006
Registration Information
To register to attend the 10th Annual Gilder/Forbes Telecosm Conference: Telecosm 2006, at the Resort at Squaw Creek in Lake Tahoe, October 4 - October 6, please complete and submit the form linked below.

Register on or before February 28, 2006 and receive 60% OFF the Forbes.Com conference list price. PLUS, REGISTER A GUEST, FRIEND, OR COLLEAGUE FOR FREE
!
That's right, two can attend Telecosm 2006 for just $599.00.
Telecosm 2006 Registration Form
NOTE: Your Gilder/Forbes Telecosm 2006 registration fee includes all meals, conference materials, and conference related events.

To REGISTER BY PHONE or to inquire about GROUP DISCOUNTS, please contact Emily Lord, at 212-367-2519 or elord@forbes.com.

We have reserved a block of rooms for conference participants at The Resort at Squaw Creek at a special rate.. To reserve your room at the discounted Telecosm 2005 conference rate, contact The Resort at Squaw Creek at 800-403-4434 or 800-327-3353 and reference the Telecosm Conference .

Note: Lodging is also available at the Village at Squaw Valley. To book your room, please call the Village at Squaw Valley directly, at 888-767-1907. A free shuttle providing transportation to and from the Gilder/Forbes Telecosm Conference will depart the village every ten minutes.
Register Now for the FREE Gilder Friday Letter