Click Photo to View
the Telecosm 2005
Online Photo Album
Sponsorship
Information

Kim Sears
Director of Sales,
Forbes Conferences
212.724.9759
ksears@forbes.com

Registration
Information
Jennifer Meeks
212.367.2504
jmeeks@forbes.com

Speaker
Information
Mary Collins
Conference Chair,
Gilder Publishing
413.644.2120
mcollins@gilder.com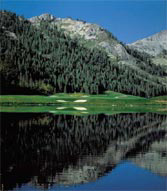 The Resort at Squaw Creek,
Lake Tahoe, California
Hotel Information
Situated in the heart of Squaw Valley, California, The Resort at Squaw Creek is a 4-diamond luxury resort ranked among the top 50 best resorts in North America by Conde Nast Traveler Magazine. The 403-room luxury resort is situated at the base of Squaw Valley USA, site of the 1960 Winter Olympics. Located just minutes from Lake Tahoe, the full-service resort features a wide range of spring and summer activities, including a championship golf course, world-class skiing, and five restaurants and lounges, and 33,000 feet of function space, a fitness center/spa.
To reserve your room at the discounted Telecosm 2004 conference rate, please contact the Resort at Squaw Creek directly, at 1-800-327-3353.

(Telecosm 2004 Conference reservation questions should be
directed to Emily Lord, 212-367-2519 or elord@forbes.com.)
Ground Transportation
Please note: it is a 45-minute drive from the Reno Airport to the Resort at Squaw Creek. To arrange ground transportation to the conference, all Telecosm attendees should contact the Resort at Squaw Creek transportation office at 1-866-909-RIDE. (Ground transportation is not included with your Telecosm conference registration.)
Driving directions from Reno/Tahoe International Airport
• North on HWY 395
• West on I-80 (Reno/Sacramento exit)
• South on HWY 89 (towards Squaw Valley and Tahoe City) 8 miles
• Right on Squaw Valley Road
• Left on Squaw Creek Road to Resort's porte cochere
Extended Stays

If you planning to stay in the Lake Tahoe area after before or after the conference more information on the area is available through the Lake Tahoe Chamber of Commerce.
Local Attractions:
Squaw Valley Usa.....10 Minutes N
Lake Tahoe.....6 Miles E
South Lake Tahoe Casinos.....1 Hour S
2006 Sponsors