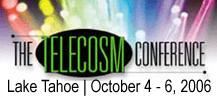 SPONSORSHIP OPPORTUNITIES

The Forbes Management Conference Group and Gilder Publishing, LLC are pleased to announce that sponsorship and exhibiting opportunities will be available at the 10th Annual Gilder/Forbes Telecosm Conference: Telecosm 2006, October 4 - 6, at the Resort at Squaw Creek in Lake Tahoe, California.

Hosted annually by Steve Forbes and George Gilder, Telecosm is an event for business leaders and technology innovators to gather to debate issues, explore opportunities, discover new ascendant technologies, and determine which companies and technologies will shape tomorrow's global marketplace. The event attracts senior executives and decision makers from technology and communications companies and from the technology investment community, as well as venture capitalists and leading public policy officials.

Event exhibitors and sponsors benefit from over two full days of direct interaction with Telecosm hosts, speakers, attendees, analysts, and press. Exhibits are situated just outside of the main conference room, where all conference breaks will be located, guaranteeing heavy traffic throughout the event. Space is limited.

To request an exhibitor and sponsor prospectus, please contact:

Kim Harrell Sears
Director of Sales
Forbes Management Conference Group
28 West 23rd Street, 10th Floor
Tel: (212) 724-9759
Fax: (212) 367-2534
E-mail: ksears@forbes.com

Telecosm Audience Composition:
275 - 300 senior executives, technologists, and business leaders from technology and communications companies as well as the institutional and private technology investment community, media and trade press, and leading public policy officials.

| | |
| --- | --- |
| Title | |
| President, Chairman, CEO ......................... | 25% |
| CTO, CIO, COO, Other C-level .................... | 15% |
| Vice President .......................................... | 13% |
| Press, Media, Analysts ............................. | 11% |
| Director …................................................. | 11% |
| GM, Principal, Partner ............................... | 8% |
| Other ....................................................... | 17% |