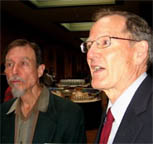 Click Here to View
the Telecosm 2007
Online Photo Album

About Telecosm 2008

Event hosts George Gilder, Steve Forbes, and Forbes publisher, Rich Karlgaard, will be joined by the world's leading scientists, engineers, technology executives, entrepreneurs and public policy decision makers to promote investment in innovation.

For three days, Telecosm 2008 hosts, speakers and attendees will debate, discuss, decode and decipher the digital and communications technologies and policies vital to the build-out of the global Internet infrastructure, the next phase of which is estimated to entail total new investments of some $137 billion worldwide by 2010.

Gilder/Forbes Telecosm Background

For twelve years, the Gilder/Forbes Telecosm Conference - the world-famous technology conference hosted annually by George Gilder and Steve Forbes - has been recognized as one of the most prestigious venues in the world for breaking information on breakthrough technologies and forward-thinking companies and investment strategies. It is an exclusive gathering of engineers, entrepreneurs, investors, public policy decision makers, and the top thought leaders and business executives from the world's leading technology and communications companies.
Conference Venue

Situated on a private island within the borders of the six million acre New York Adirondack State Park, The Sagamore Resort offers six distinctive restaurants, a championship golf course, European-style spa, pool, fitness center, and sailing school. Telecosm 2008 participants can choose from accommodations in either the historic hotel or a private Adirondack lodges. (Resort-wide high-speed wireless Internet access and 5-bar cell phone service.)

Attendee Profile

250 - 300 senior VP and C-level executives, engineers, strategists, technologists, sales representatives, serial entrepreneurs and government representatives, as well as business leaders from technology and communications companies, institutional investment advisors, and high-net-worth private investors, accompanied by media and trade press and leading public policy officials.

More Information on Past Events
2008 Event
Sponsors
With Support
From