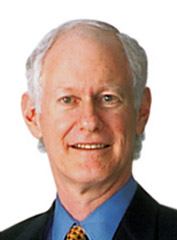 Larry Sweet
President, Euclid Transformational Auromation
Dr. Sweet formed Euclid Transformational Automation LLC in 2006, to develop intelligent robotics and demand-driven supply chain technologies for consumer product, medical, and other sectors. Using advanced concepts in control, network optimization, and sensor processing, Euclid is creating robotic systems that are now being implemented, transforming manufacturing plants and downstram supply chains, unleashing step change productivity, flexibility, asset utlization, and market growth benefits.

Dr. Sweet builds on over twenty years international experience in development and implementation of advanced automation technologies, in senior executive positions for FANUC, General Electric, ABB, United Technologies, and Pepsico. He developed patented robotic systems that received best product of the year awards from Toyota Corporation and Research & Development Magazine. He also has been recognized for operational leadership, with awards from Industry Week (his Scroll Technologies plant among ten best in U.S.), United Technologies (division asset productivity award for lean supply chain), and Carrier President's Award for Operational Excellence (electronics manufacturing).
A graduate of MIT and the University of California, Berkeley, he was Professor of Mechanical and Aerospace Engineering at Princeton University, a Guggenheim Foundation Fellow, recipient of the Alfred Rheinstein Outstanding Faculty and SAE Ralph R. Teetor Awards, associate editor of the ASME Journal of Dynamic Systems, Measurement and Control and IEEE Transactions on Robotics and Automation, winner of an ASME best paper of the year award , author of over 50 journal articles, and a keynote speaker at the 2006 International Symposium on Factory Automation in Osaka, Japan.