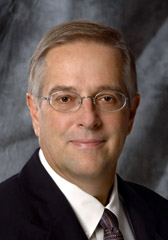 Vern Raburn
President and Chief Executive Officer, Eclipse Aviation

Since its inception in 1998, Vern Raburn has led Eclipse Aviation Corporation to achieve numerous advancements in its quest to change the way people travel. To date, the company has raised nearly half a billion in capital and has made significant progress toward the certification and delivery of its flagship product, the Eclipse 500 jet.
With more than 25 years experience as a senior executive in the information technology industry, Raburn is a successful entrepreneur who has also helped to shape the course of the information technology revolution and the high technology industry. In the mid 1970s, Raburn opened one of the nation's first computer stores, the Byte Shop of Westminster. Shortly thereafter, he joined Bill Gates as one of the first employees at Microsoft Corporation. He served at Microsoft as President of the Consumer Products Division and was responsible for the company's entry into the retail channel.
During the past 25 years, Raburn has consistently taken companies to the highest levels of success. Following his tenure at Microsoft, he served as Executive VP and General Manager of Lotus Development Corporation, where he played an integral role in the successful launch of Lotus 1-2-3. He has also served as Chairman and CEO of Symantec Corporation and Slate Corporation. Prior to founding Eclipse, Raburn worked as president of the Paul Allen Group, overseeing high technology investments for Microsoft co-founder Paul Allen.
Raburn's passion for high technology is exceeded only by his love of aviation. Since he first learned how to fly as a teenager, he has accumulated over 6,500 hours of flight time and has earned his multi-engine, instrument, commercial and rotary ratings. He holds type ratings in more than 15 aircraft types ranging from WWII bombers to piston airliners to modern corporate jets. He is on the board of directors of the Experimental Aircraft Association, the Executive Council to the FAA's Research, Engineering and Development Advisory Committee (REDAC) and the Embry-Riddle Aeronautical University's Presidential Advisory Board.