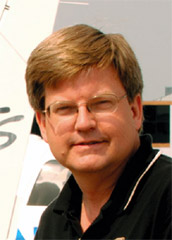 Alan Klapmeier
Cofounder, Chief Executive Officer, Cirrus Design

Alan Klapmeri is co-founder, president and CEO of Cirrus Design Corporation, the world's second largest manufacturer of single-engine, piston aircraft.

Founded in 1984 by Alan and his brother, Dale Klapmeier, Cirrus Design was priginally a maker of homebuilt aircraft kits, the company has created and marketed several designs; three are four-seat, single-engine airplanes: the SRV, the SR20 and the SR22, currently in production as of 2005. The VK-30 was a pusher-propeller design, sold as a kit, of which very few were built. Cirrus is headquartered in Duluth, Minnesota and has a facility in Grand Forks, North Dakota.
Cirrus aircraft are extremely modern, with Avidyne FlightMax digital flight displays and modern avionics as standard equipment. The aircraft are all electric, no vacuum systems are used. Redundancy is provided by dual batteries and alternators. The SR22 is also available with TKS de-icing equipment, but as of 2005 is not certified for flight into known icing conditions.

A unique feature of Cirrus aircraft is the Cirrus Aircraft Parachute System (CAPS), a ballistic parachute system that allows the entire aircraft to descend safely from an emergency. Cirrus is the first manufacturer to be awarded FAA certification for a production aircraft with a ballistic parachute system. CAPS is standard on every Cirrus.