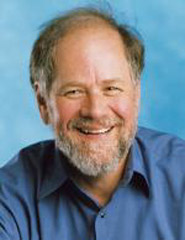 Kevin Kahn
Intel Senior Fellow; Director, Communications Technology Lab, Intel

Dr. Kevin Kahn is an Intel Senior Fellow and Director of the Communications Technology Lab, a corporate advanced development and research lab in Intel's Corporate Technology Group responsible for all communications technologies including radio, optical, and copper physical layer technologies, CMOS communications circuits work, packet processing, and higher layer protocols. Additionally, he helps drive communications strategies and policy for the corporation. Some of his primary current focus areas are broadband access to the home, wireless LANs and PANs, spectrum policy, and related Internet issues.
Dr. Kahn also coordinates Intel RF technical directions across divisions and chairs the Intel Communications Research Council, which oversees research activities between Intel and academic programs. He currently serves on the FCC Technological Advisory Council, the Computer Science and Telecommunications Board of the National Research Council, and on various academic advisory committees.
In prior lab assignments, Dr. Kahn has played a variety of roles in strategic and technical planning and research. These included managing large labs in operating systems and Internet communications.
Dr. Kahn represents Intel in various industry consortia and various government policy forums. He has lectured widely at universities in the U.S. and abroad about Intel and personal research activities. He previously served on the National Academy of Science Broadband Last Mile Study Panel, served as the co-chair of the Universal ADSL Working Group, an industry alliance dedicated to accelerating the deployment of consumer ADSL services for higher speed Internet access, and served as a Director of the DSL Forum.
Dr. Kahn joined Intel in 1976 after completing a Ph.D. in Computer Science at Purdue University. Prior to that, he had received an M.S. in Computer Science from Purdue and a B.S. in Mathematics from Manhattan College. Throughout his 27-year career with Intel, he has worked in system software development, operating systems, processor architecture, and various strategic planning roles. He has held both management and senior individual contributor roles. He holds multiple patents in processor architecture and communications technologies.
Dr. Kahn is based at Intel's facility in Hillsboro, Oregon.