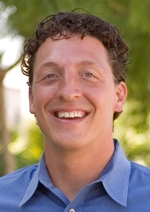 Cary Gunn
Co-founder and Chief Technology Officer, Luxtera
Cary leads Luxtera's world class technology development activities. Cary went to Caltech with a cohesive vision for realizing monolithically integrated optoelectronics. Cary's research in Professor Axel Scherer's nanofabrication group led to numerous breakthroughs in nanophotonic design and fabrication. Cary's vision and early successes at Caltech form the foundation of Luxtera's technology.
Prior to attending Caltech Cary engaged in R&D on MEMS and DWDM systems at the Aerospace Corporation, one of the world's premier space technology R&D organizations. Previously he served as an officer in the U.S. Air Force, where he supervised a team of 250 people as Integrated Product Team Leader for stages one and two of the USAF Delta II rocket program.
The MIT Technology Review recognized Cary as one of the World's Top 100 Young Innovators in October 2003. Cary holds a B.S. in Applied Physics from the U.S. Air Force Academy and a Ph.D. from Caltech.