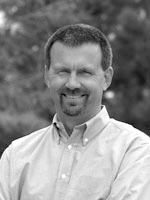 Alex Dickinson
President and Chief Executive Officer, Luxtera
Alex's leadership draws upon his successful career as a serial entrepreneur.
Previously, Alex was CEO and later chairman of Ethentica, a venture-backed company thatóin partnership with its investors Philips Electronics NV and Hewlett-Packardódeveloped and shipped the world's first flat panel display biometric sensors. Earlier, Alex held the position of Director in Lucent Technologies' New Ventures Group where he was responsible for identifying promising Bell Labs technologies and creating venture-backed companies to commercialize them. Alex is also the co-founder of two successful Australian technology companies.
Alex began his technology career at AT&T Bell Labs and has been awarded over 50 US and international patents. He holds a B.E. and Ph.D. from the University of Adelaide, Australia, and an MBA from Columbia University.