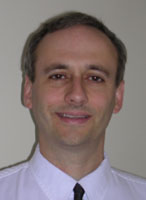 Mark Bereit
Director of Product Development, IRIS Technologies
Mark Bereit helps businesses develop high-technology products. His primary focus is on software and hardware development, particularly in embedded systems where these disciplines closely interrelate.

Since 1998, Mark has been the Director of Product Development for IRIS Technologies, manufacturers of video technology products for non-technical users. Prior to this he was for six years the principal of a technology product development consulting business, "Breakthrough Designs."

Mark first programmed a computer in 1977. Since that time he has acquired many technical skills, usually self-taught, has learned numerous important lessons the hard way, and has struggled, reasoned and experimented his way through the ever-changing technology landscape. Through this exploration process he has gained a considerable depth of understanding of how and why technologies work. That understanding has provided him with often unconventional viewpoints on the strengths and weaknesses of many often unquestioned technologies, tools, processes and mental models. Happily, he keeps getting paid to do this.