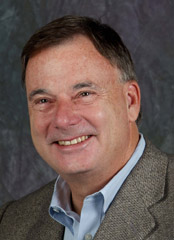 George "Rick" Adam
Founder and Chief Executive Officer, Adam Aircraft
George F. (Rick) Adam, Jr. founded Adam Aircraft Industries in 1998 and serves as Chief Executive Officer. He is the driving force behind AAI's unwavering belief in its inevitable success, is relentlessly and singularly focused on aggressive action plan execution, and has assembled an exceptional management team of experienced and committed business, manufacturing, information technology, and aviation professionals.
Mr. Adam was selected as recipient of the Aviation Week and Space Technology 2002 Laurels Award for outstanding achievement in the field of Aeronautics and Propulsion. Mr. Adam has also received numerous awards and recognition for his entrepreneurial achievements, including the 2003 Ernst & Young Entrepreneur of the Year finalist award for the Rocky Mountain Region in the manufacturing category; and Airport Journal's 2003 Michael Chowdry Memoriam Aviation Entrepreneur of the Year award. In 1999, he received the Ernst & Young Entrepreneur of the Year award for the Rocky Mountain Region in the software category and was named one of the Top 10 Financial Technology Innovators of the Decade by Wall Street & Technology magazine. Mr. Adam is an active participant in the Experimental Aircraft Association's (EAA) Special Outreach with Aviation Resources (SOAR) program, designed to assist underrepresented youth to become involved in the excitement of aviation. Thomas P. Poberezny, president, EAA Aviation Foundation, says of The Adam Family Foundation, "[Mr. Adam's] generous support of the computer laboratory in the EAA Leadership Center in Oshkosh, Wisconsin, is an investment in tomorrow's aerospace leaders. Within its walls, a legacy of technology leadership will be passed to generations for the century to come." Mr. Adam has also facilitated the Children's Education Program at the Colorado Wings Over the Rockies Museum.
Before founding Adam Aircraft Industries, Mr. Adam formed a fast-growing technology company in Colorado called New Era of Networks. New Era of Networks was ranked seventh nationally in 1999 by Deloitte & Touche in its Technology Fast 500 list. Mr. Adam took the company public onto the NASDAQ in 1997. Previously, Mr. Adam was a general partner with Goldman Sachs and Co. where he was in charge of information technology, back office operations, and general services, directing a staff of more than 2,500 and managing a budget in excess of $800 million. Mr. Adam initiated and completed a successful turnaround of Goldman's IT operations, reducing costs by using technology as a medium for profit, and changing the way top Goldman executives worked with technology. He also founded the Goldman Sachs Trust Co., Global Custody Business, and Securities Lending Business. Before Goldman Sachs, Mr. Adam held executive positions at Baxter Healthcare Corp., FMC, Litton Industries, and IBM.
Mr. Adam holds a B.S. degree from the U.S. Military Academy, West Point, New York. As a captain in the U.S. Air Force, Mr. Adam served as launch crew officer in charge of the Real Time Computer Center (RTCC) at Kennedy Space Center for Apollo Missions 8 through 14. He was twice awarded the Air Force's Commendation Medal. While serving in the U.S. Air Force, Mr. Adam attended graduate school at both Florida State University and Golden Gate University, where he received his MBA. Mr. Adam has his private pilot's license, multi-engine, and is instrument rated. He has been jet type rated and has flown over 15 different types of aircraft.