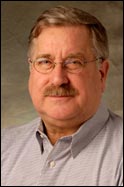 Vern Fotheringham
President and Chief Executive Officer, Adaptix
Vernon Fotheringham brings to ADAPTIX a well-honed set of executive and management skills. Prior to joining ADAPTIX, Fotheringham was a partner in SDR Holdings, an investment holding company that acquired the assets of the former Broadstorm, Inc. He served as president and CEO of Broadstorm, a world leader in the development of OFDMA/TDD metropolitan broadband wireless IP network infrastructure.

Fotheringham served in senior-level capacities with various other corporations including VIDA, LLC; Bazillion, Inc.; Advanced Radio Telecom; NORCOM Networks Corporation; The Walter Group, Inc.; The Channel Group, Inc.; Omninet Corporation; and Hayashi Group, Ltd., of Osaka, Japan.

Fotheringham is a graduate of California State University, Fullerton. He currently serves on the boards of directors of Meade Instruments and Denali Telecom.