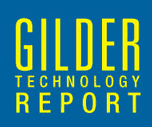 ©2003 Gilder Technology Report,
a joint publication of Gilder Publishing LLC and Forbes, Inc.
All Rights Reserved.

Contact Us
About Us
Gilder Publishing, LLC, is publisher of the Gilder Technology Report and based in Great Barrington, Massachusetts. Founded by George Gilder in 1995, it produces high-end information tools for high-tech managers and investors, including the Gilder Technology Report (co-published with Forbes Inc). We also present two annual technology conferences with Forbes, the Telecosm and Storewidth events.
Editorial Office

Gilder Publishing, LLC
Attn : Gilder Technology Report
291A Main Street
Great Barrington, MA 01230
Phone: (413) 644-2100
Fax: (413) 644-2122
Email: info@gilder.com
Website: http://www.gilder.com